For those of you who have read my blog "Tales from Tour School" you will know that my first experience in Morocco last December was filled with all sorts of adventures (to put it mildly!). This time around, adventures were still to be found (what would life by like without them..eh?) but not in quite the same multitude – and instead of crazy driving (we had police escorted shuttles, so no rental car required), stomach bugs and getting stuck in elevators, Morocco 2014 was characterized by great food and as always, great people.
The great food began in the morning with the delicious breakfast buffet, carried on at lunch with another delightful buffet with a desert table the length of one whole wall – which I was very unfortunately unable to take advantage of since I decided to give up deserts for Lent (perfect timing right?!)   My dad, however,  (caddy for the week) had no problem indulging himself (everyday) in everything from tiramisu, apple tart, chocolate mousse and creme brûlée, normally all at the same time and right in front of my face- thanks dad!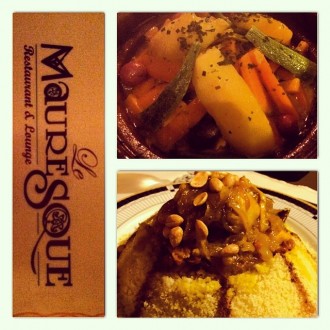 The great food didn't stop there though, dinner was the best part. We were so lucky that our hotel was situated right next to Le Mauresque-an authentic Moroccan, and absolutely delicious, restaurant! I became obsessed with chicken and couscous with caramelized onions, raisins and almonds as well lamb tajine with prunes and almonds (so yummy!). I am one of those people that, unfortunately for those traveling with me, once I find something I like, I become obsessed, and so we pretty much ate there every night, except for Saturday night, on which there was a gala dinner attended by none other than the Royal Highness Prince Moulay Rachid! It was a pretty incredible experience to attend a dinner presided by royalty-not exactly your everyday dinner party and truly a once in a lifetime opportunity! I must say, I could get used to the royal lifestyle if they eat anything like we did at the gala-plate after plate (or should I say HUGE plate, after HUGE plate) of deliciously prepared food, from lamb to fish to chicken, kept getting brought to our table. And then desert arrived-probably enough small pastries for everyone in the field, and there was only 9 of us at the table!!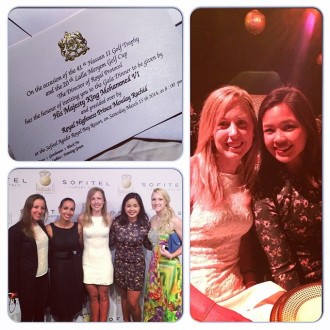 As well as enjoying the delicious food Morocco has to offer, I also had the pleasure of spending the week with my dad who was on the bag for the tournament. It is always nice to have some daddy-daughter time and he does a great job of putting up with me on the golf course! My friend from high school, Mia Piccio, (the one responsible for my sky diving excursion and consequently my mum's new best friend…jk) who is also a rookie on the LET this year was playing in the event, so it was good fun to catch up with her again and enjoy my Moroccan experience with her. Hopefully, I'll see Mia again at my next event, although given her travel agent likes to allow her an airport connecting time of 8 hours, I'm not sure we will be traveling together any time soon.
Oh….and the golf was quite good too! I finished T33 in my 2nd LET event.